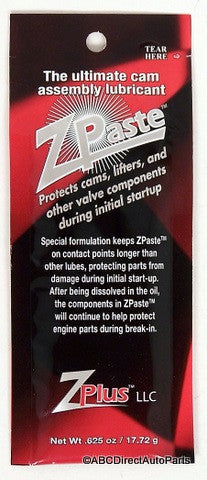 1 ZPaste™ Cam Assembly Lube
ZPaste™ is a new class of ultra-high film strength cam assembly lubricant.  Designed after receiving requests from engine shops which were experiencing high amounts of early cam failure after an engine build.
ZPaste™ kept a film of lubricant on the cam lobe longer than any other assembly lube in testing, and encouraged the growth of a ZDDP anti-wear film.  After the 5-minute point, all the lubricants other than the ZPaste™ showed greater friction and resulting temperature rise.  This indicates that the unique film properties of ZPaste™ allowed it to establish an effective film which displayed stable anti-wear characteristics.
You can be sure ZPaste™ will protect the lobe in ANY normal break-in scenario until the engine break-in oil begins to gradually wash it off the cam lobes.  It is important to note in all cases, regardless of what lubricant you use when assembling your flat-tappet cam and lifters, adequate ZDDP must be present in the break-in oil to ensure proper break-in, as well in each oil change thereafter.  ZPaste™ helps here as well, when applied at approximately 1 gram per lobe and fully dissolved in the oil, it will contribute a useful 65 ppm of phosphorus in the form of ZDDP to 5 quarts of oil.
5/8 oz (17.72 grams) packet
- Do your coils provide improved performance?
Yes our high performance coils have been proven to provide 10% to 15% more spark over original OE replacement coils.
- Will this product fit my car?
Check the fitment PDF in the tab above to verify if this coil fits your vehicle.