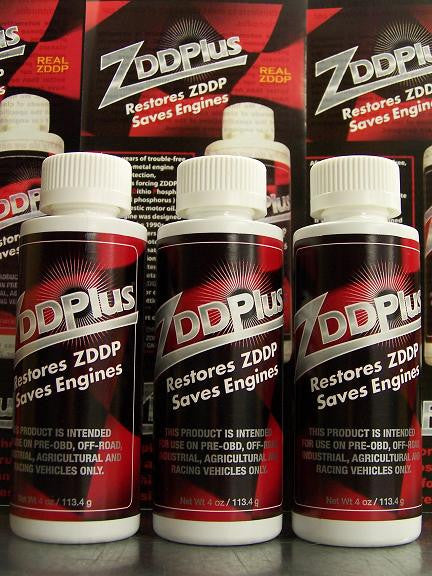 3 Bottles of ZDDPlus Engine Oil Additive
ZDDPlus™ is an oil supplement that contains very high concentrations of the well-known additive ZDDP (Zinc Dialkyl Dithiophosphate), which has been the primary EP (extremepressure) ingredient in all quality motor oils for over 70 years. In the late 1980s, however, the concentration of ZDDP in motor oils has been greatly reduced as newer oil classifications have come on the market.
ZDDP is an essential cam wear solution for classic and performance cars. ZDDPlus™ is the original, best researched and documented zinc additive available.
The sliding cam-to- cam-follower interface in a non-roller lifter engine requires a special anti-wear additive, which has historically been ZDDP. After 70+ years of positive protection afforded by ZDDP, emission system changes are forcing a reduction in the amount of ZDDP in motor oils, leaving your classic or performance car at risk of premature cam and lifter wear. The key ingredient of ZDDPlus™ is ZDDP. ZDDP has been known to shorten catalytic converter life. Manufacturers have been redesigning engines for several years to extend the life of catalytic converters in order to lower emission levels. One engine redesign has been the switch to roller rockers. As a result, oil manufacturers have agreed to reduce or eliminate ZDDP from motor oils.
Read more...
Ideal wear solution for flat tappet engines
Provides added protection that today's oil cant
Restores protection that today's motor oils cannot provide
Well-research test results
Protects engine during break-in
- Do your coils provide improved performance?
Yes our high performance coils have been proven to provide 10% to 15% more spark over original OE replacement coils.
- Will this product fit my car?
Check the fitment PDF in the tab above to verify if this coil fits your vehicle.