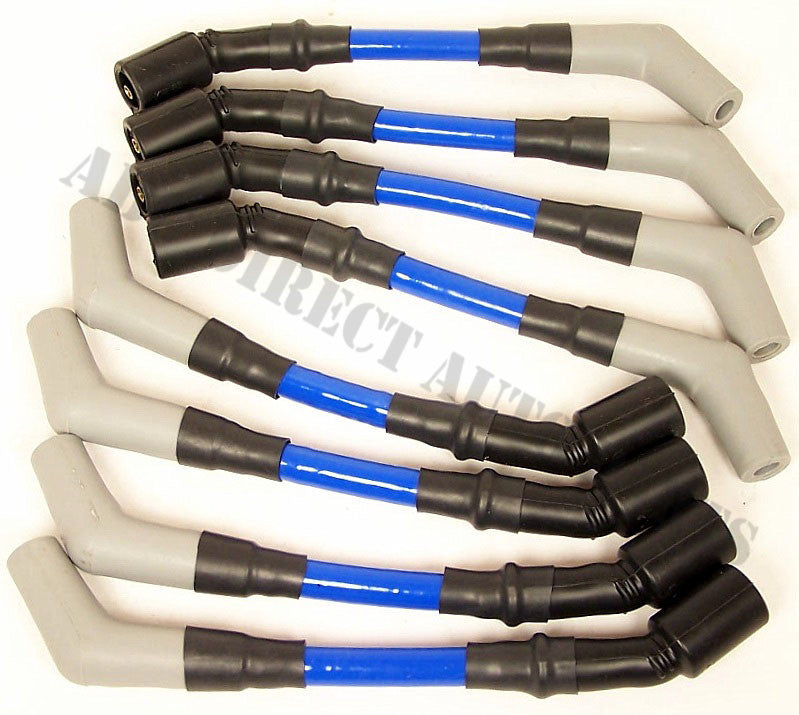 LS Engine 10mm Blue High Heat Performance Spark Plug Ignition Wire Set
10 mm Ultra High Performance Wire Set for the LS1, LS2, LS3, LS6, & LS7 engine. Due to the short design of the the LSX style engines there is a lot of heat near the plugs causing premature wire failure which costs you power. This wire set eliminates all of those concerns. The set starts with pure silicone insulated 10 mm double braided wire for added pull strength and a Ferro spiral conductor with an ultra low resistance impregnated core with less than 30 ohms per foot. Over the 10 mm wire is a fiberglass wrap with colored silicone heat sleeving for added heat protection. With less resistance (stock wires have over 600 ohms) and added heat protection this wire set will help you get the maximum performance from your ignition system. Made here in the USA! 
WARNING – If you intend to install these wires on your LS engine in a truck, you must have a round Delphi-style ignition coil (part # 19005218). The length of the LS spark plug wires is 7 ¼ inches end-to-end. If you have any questions regarding the fitment of these wires with your vehicle, please contact us before you purchase.
Features:
High Quality Silicone Boots

Made with low resistance wire

Protective Heat Sleeve over the 10 mm wire for maximum heat protection

Perfect fit for stock or modified vehicles 
- Do your coils provide improved performance?
Yes our high performance coils have been proven to provide 10% to 15% more spark over original OE replacement coils.
- Will this product fit my car?
Check the fitment PDF in the tab above to verify if this coil fits your vehicle.